Wella
In 1880, a German hairdresser named Franz Stroher had a vison to create the best in women's hair. He started with wigs, then went on to invent the first perming machine and overhead dryer. Following that he developed a balm to smooth and nourish the hair. By the 1950's, after the war, the brand we know today as Wella Professionals went into mass production, Koleston was born as the first cream colourant. As technology advanced over the next few decades so did the Wella brand introducing the world to vibrant reds and beautiful blondes. 1980's saw the launch of the permanent colour range Koleston Perfect and Semi permanent Colour Touch. The last 35 years have seen the launch of Illumina and Innosense, 2 permanent colour ranges with technology never seen before with any other brands, Freelights, a clay based bleach that allows your stylist more freedom to be creative with blondes. This and so much more are the reason why Wella is the leading brand for haircare worldwide.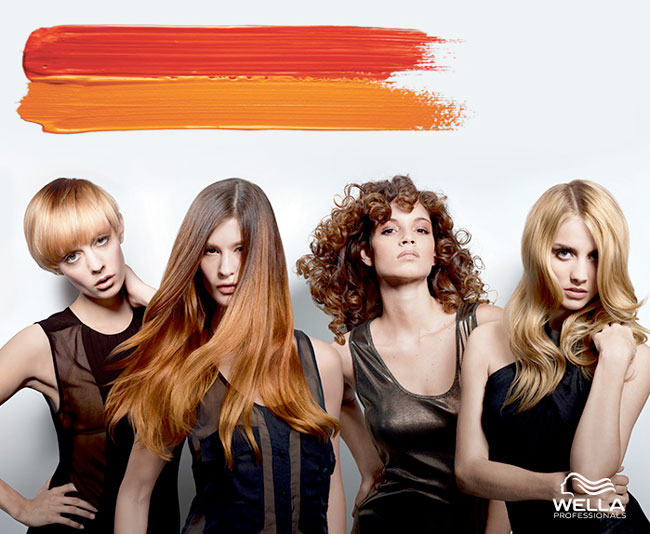 Koleston Perfect
From what began as the first cream colourant back in the 1950s Koleston Perfect has advanced to the award winning permanent colour it is today. With over 130 intermixable shades, KP delivers rich, beautiful, glossy colour results with rich brunettes, vibrant reds, beautiful blondes and 100% grey coverage. Koleston uses only the highest quality ingredients with conditioning agents that make it gentle on the hair.
Colour Touch
Is the Semi Permanent range containing 83 Different shades. CT is ammonia free, contains natural beeswax and light reflecting colour molecules that results in multidimensional vibrancy and high fashion shine.
Illumina
Part of the premium permanent range, Illumina gives 100% grey coverage with a sheer result. Using Microlight Technology, light passes through each hair strand illuminating the natural highs and lows of your hair. This gives variation to your hair colour and with 38 intermixable shades, your stylist can create your own unique light reflecting colour.
Innosense
The second premium permanent colour range, Innosense was created for the more wellbeing conscious client and has been formulated to reduce the risk of developing allergies to colour. A new colour molecule created by Wella Scientists is a different shape so without effecting the result, the new molecules a different shape so the reactors on our skin don't recognise it and try to reject it (this is what causes a reaction). With 27 different shades and 100% grey coverage you can feel confident in your colour results.
Blondor
One of the best lightening brands on the market worldwide, Blondor is a premium product with different ranges designed for all lightening techniques. Multi blonde powder provides upto 7 levels of lift and contains anti yellow molecules to minimise orage and yellow undertones, soft cream blonde is designed for on scalp applications and contains protective lipids to reduce moisture loss in the hair and freelights contains polymers designed to link together to keep the mixture in place giving your stylist more freedom and control for freehand lightening.