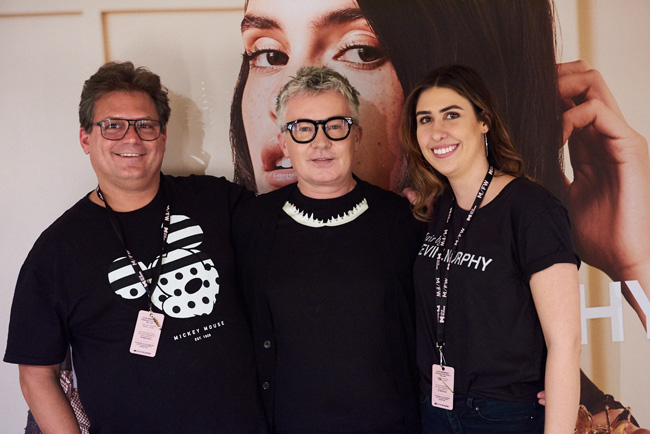 03 Oct

Divine Daze Season 19 Episode 10

Schools back for the last term of the year, how beautiful was the weather for the September holidays. I took the kids over to Fitzroy Island for a few nights in the second week and it was just magic. We had a great weekend for amateurs, Saturday was pumping we had every seat full right up till the end was so much fun. I had to cut the band off one of the fascinators with a hammer and a chisel, some of those head bands are not designed for hairdos…. We saw a lot of headbands this year rather than fascinators… for anyone who knows me you know how I feel about fascinator's lol.
System Professional
Since the relaunch of System Professional earlier this year we have had such an amazing response with all the new reformulated shampoos, conditioners and treatments. It really is the best range I have seen in my career. For those who don't know System Professional by Wella has created a range that is more prescriptive and personalised to your needs. Before purchasing any System Professional products a hair analysis is conducted, this involves taking a series of photos with a camera that magnifies up to 2000x. It looks at the condition of you scalp, the condition of your hair strands, hair diameter and hair thickness. It's pretty cool to see what's going on that close. From there we use an app on the IPad where you answer some questions about what you like about your hair, we enter data from the camera and it tells us exactly the products you need for your hair. Our clients that have been on their system professional regime have all noticed a change in the strength and shine of their hair. If you're interested in doing a hair analysis and energy code ask your stylist at your next appointment, It takes about 15-20 mins.
Wild Barra
It's that time of year again for the annual Wild Barra Fashion show, This is the 4th Fashion Show for Wild Barra Co. and each year it gets more fun and entertaining. The event will be held this Sunday 8th October at 4pm at the Tanks art centre as part of the Cairns Tropical Pride Fair Day. If you get the chance come down and check it out. It showcases wearable art by indigenous designer, Shaun Edwards. The clothing range includes men's and women's beach wear and yoga wear inspired by European styled garments with native Australian artwork that show strength and beauty.
Fashion Week
As I mentioned last episode Mariella and I went down for Melbourne Spring Fashion Week in mid-September and went back stage with Kevin Murphy and the Session Styling Team to style the models hair for the Catwalk. We both did the big show on Thursday, all the models wore wigs so we had to wrap the hair so the wigs could be placed on securely. Then I went back on Friday for the final show with Kev and all the models had super flat sleek blow-dries. Kev showed me another cool hairstyle he does too, it was such a great learning experience with marketing doing a social media influences hair. These people have Kevin's target demographic following them and get paid per like in Instagram and Facebook. These companies no longer advertise in print media. This is the world of Social Media.
Christmas
I know you don't want to hear it but it's happening, Christmas is only an appointment or 2 away, I know it's crazy!! Just over 12 weeks to go so just keep it in the back of your mind. We have already got people making bookings so to avoid disappointment make sure you book in.
TV Shows
My TV Show for this Episode is Handmaid's Tale with Elizabeth Moss who was in Mad Men & Top of the Lake. Its Dystopian Drama Set in the States after the Breakdown of Society.
That's all for this Episode, until next time
Like shampoo through the hourglass, these are the Divine Daze.